Campervan Hire Belfast, a Northern Ireland adventure
Belfast is a city moving with the times. Shunned by visitors as the scene of conflict during the troubles, today it has reinvented itself with a glorious new shopping district, proudly restored historic buildings and the cutting-edge Titanic experience. It is now Ireland's second most visited city. Hit the road around Belfast with a camper from Motorhome Republic and get to see it all, at your own pace.
From Belfast, you can easily drive your motorhome rental and visit cities just hours away like Dublin, Edinburgh, Limerick and travel through Ireland in a campervan. Alternatively, you can take a ferry to either Scotland or England. From there, the rest of the UK is waiting for you to be explored on a UK RV hire!

Campervan Hire in Belfast with Motorhome Republic
Over 100,000 road trips have been booked with Motorhome Republic. Be part of the movement by visiting our website, which works equally well on PC or tablet. Throw a few details into our simple search engine, such as your city of pick-up, dates of travel, and driver's age, to see all available campervan hire in Belfast across many brands. You can compare specifications easily, right down to the floor plan of each campervan. When you have chosen the right motorhome rental for you, book securely online, backed with the confidence of a best-price guarantee.
Motorhome Rental Belfast: Trusted Brands
Looking to get a campervan rental in Belfast? Secure the best deal from Motorhome Republic from these well-known brands and enjoy your Northern Island exploration!
You can choose great motorhome hire deals from Anywhere Campers, Apollo Motorhome Holidays Family UK, Causeway Campers. Usually, the Belfast depot of your chosen supplier is conveniently located near the Belfast city airport. So no need to worry about going there.
Book your motorhome hire Belfast quickly and easily with Motorhome Republic and drive away with no worries.
A Northern Ireland Road Trip: Beyond Belfast
Beginning at Belfast is the Causeway and Coast Route, recognised as one of the world's great road journeys. It runs 120 miles to Lough Foyle, passing the impressive landmark of Giant's Causeway, through villages, interspersed with castles, churches and forts. You should allow a minimum of five days to get the most out of this fabled route in your campervan hire Northern Ireland.
You may roam around the whole island if you wish to explore more, head your camper van hire NI over to Donegal, and follow the scenic Wild Atlantic Way, which is just a 2-hour drive from Belfast.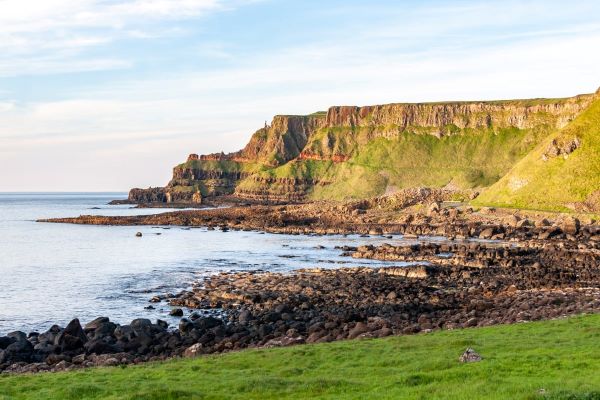 Where to Stay in Belfast
Jordanstown Loughshore Caravan Park is just five miles north of Belfast on the Causeway Coastal Route, with good access to bus routes and train stations. The ideal spot to park your Belfast motorhome hire.
Food, drink and nightlife in Belfast
One of Belfast's premier eateries is Deane's Restaurant. It has many celebrity fans – former 007 Roger Moore once ate lunch and dinner there three days in a row. While its European menu, with dishes such as slow-cooked shin of Irish Beef, sounds expensive, you can call in for a one-course set menu lunch for just 10 pounds.
Molly's Yard is set in a restored Victorian stables and courtyard. It serves gorgeous food with local ingredients; feast on Finnebrogue Venison, followed by a crumble made of Armagh apples.
Check what's on at the Odyssey Arena while you are visiting. This is another innovation in the Titanic Quarter, and this 10,000 seat venue has brought big-name music artists to Belfast. It is also home to the Belfast Giants ice hockey team.
Motorhome hire Belfast holiday: Things to See and Do
The Titanic Quarter is one of the world's largest waterfront regeneration projects, bringing vibrancy to a long-neglected part of the city. This new neighbourhood in Belfast is home to the Titanic Visitor Experience: six floors of interactive exhibits tracing the story of the Titanic, from its conception and construction in the early 1900s in a Belfast shipyard, to its launch and ill-fated maiden voyage. On Sundays, stop in for afternoon tea in the Titanic Suite, complete with a grand replica staircase and food served on White Star Line china.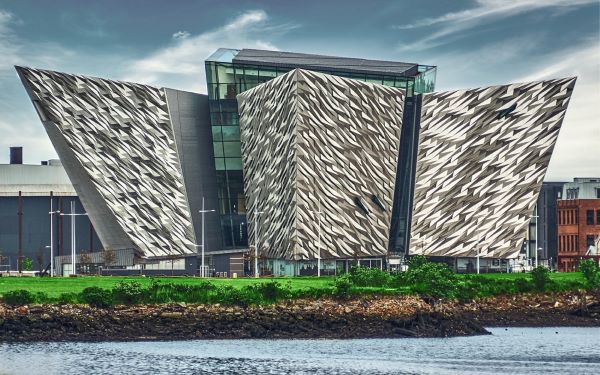 Victoria Square is a swish shopping centre, anchored by the House of Fraser department store. It is set over four levels, including covered, pedestrianised streets, and topped with a glass dome. Tours to the top of the dome are available and reward visitors with panoramic views over the city's rooftops all the way to the River Lagan.
Fans of TV show Game of Thrones will not need to be told that the series is filmed in Belfast, at Titanic Studios. Many of the locations are either in the city centre or easily accessible within a day's travel.
Take time to reflect on Belfast's troubled history, by visiting Falls Road in the west. Unionist Shankill and Nationalist Falls Roads are divided only by a peace-line, and show how these communities had to exist in such close proximity. Striking murals commemorate the struggle.
Alternatively, you may drive your motorhome hire Belfast down to the breathtaking Cliffs of Moher and continue further to discover the hidden gems of the Emerald Isle.
Where to go next after Belfast? Sift and select from top RV rentals in London, in Leeds, or in Luton. Alternatively, begin a motorhome adventure from Manchester or from Glasgow. The choice is yours!
Driving Tips for Northern Ireland
Save yourself a hassle if crossing borders in your motorhome rental into Northern Ireland. Ham, eggs, sausages… in fact, many meat products are subject to import restrictions. Stock up on local produce once you are in Northern Ireland.