Campervan Hire Edinburgh: Explore the city of contrasts in a motorhome
The skyline of Edinburgh is unforgettable, with its towering castle and old world charm. It's a compact city that is easy to explore and the surrounding countryside and coastline are scenic and picturesque. Sounds perfect for a motorhome road trip. Pick up a UK campervan rental in Edinburgh and explore the breathtaking views of the city and the rest of the Scottish Highlands.
Hiring a campervan rental in Edinburgh, Scotland
Campervan hire in Edinburgh has grown popularity in recent years with the growing demands from both local and international tourists. Serving as a gateway to the stunning landscapes and sceneries of Scotland, Edinburgh is an ideal jump off point for your motorhome adventure.
Organise your Edinburgh campervan hire with Motorhome Republic and have the freedom to choose from a wide range of motorhome rental vehicles. Choose a private motorhome hire Edinburgh when traveling solo or with a partner for a short tour of the countryside or opt for an extended tour in a luxury motorhome rental across Scotland. Pick up your campervan hire near Edinburgh Airport or from rental depots located in the city centre.
Where to hire a campervan in Edinburgh
Bunk Campers are located 15 minutes from the airport and offer transfers. Their fleet of motorhome rental is large and you can choose to drop off your camper in another city.

Spaceships' Edinburgh depot can be found at The Workship, Union St, which is around 25 minutes in a taxi from Edinburgh Airport. The team there have great advice on local itineraries and the right vehicle for your campervan Edinburgh road trip.

McRent are the 'campervan experts' and are located just 6km from the airport at Ratho Coaches Newbridge Inudstrial Estate. Their rental vehicles have top-of-the-range fittings and McRent have an outstanding international reputation

Pure Motorhomes UK pride themselves on the quality of their campervans and RVS, while not compromising on service. Check them out at Motorhome Republic.

Compass Campers deal in Edinburgh motorhomes and campervans, across a variety of rental brands that come in all shapes and sizes
Handy hints for your camper hire in Edinburgh
Choose an area you really want to see, with plenty of things to do during the day.

Bring a good map to help you navigate the area in your motorhome rental.

Make sure you take any essentials if you're you're heading out of the city in your Edinburgh motorhome hire, as chances are you may not be able to pick stuff up locally.

It can get very cold at night, so bring extra-warm clothing.
Castle and crag, the history of Scotland's capital
Edinburgh grew around its Old Town until the late 18th century, and this medieval heart of the city still has a distinct atmosphere from the iconic Edinburgh Castle at the top of the Royal Mile to the Grassmarket below, where public hangings formerly took place.

At the bottom end of the Royal Mile, in the middle of the city, is a dormant volcano, 251m above sea level. Arthur's Seat is the remains of a 2000-year-old fort at the top. The view is not to be missed. Right next to the fort is Holyrood Palace, the official residence of the Queen in Scotland.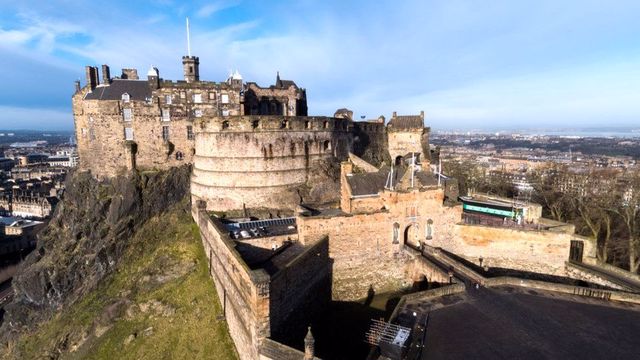 Edinburgh Castle is a definite must-see when you're on a UK motorhome trip. Overlooking Princes Street Gardens that were once a loch, stands the most famous castle in Scotland. At the centre of Scottish life for more than 900 years, Edinburgh Castle was one of the strongest fortresses in the kingdom. Here you'll find the Crown Jewels, the Stone of Destiny and unparalleled views. Time your visit for the deafening One O'Clock Gun, part of a tradition that once set maritime clocks.

To complete your historical and cultural immersion in Edinburgh, you will never go wrong with paying a visit to the following national institutions:
Scottish National Gallery
Scottish National Gallery of Modern Art
The City Art Centre of Edinburgh
National Museum of Scotland
It's not all history and stonework, though. The other half of the city centre is the Georgian New Town, where the shops are at their best. Also, modern architecture such as the Scottish Parliament sits alongside the beautiful baroque buildings. There are monuments to writers all over this UNESCO City of Literature so find inspiration at gourmet tea and coffee shop, the Elephant House, loved by Alexander McCall Smith, Ian Rankin and JK Rowling.
Camping accommodation in Edinburgh
Mortonhall Caravan & Camping Park is peaceful, even when busy. There is a pub and restaurant on site and friendly staff. It has access to a bus stop nearby so is great to get into the city.

Edinburgh Caravan Club Site is close to the coast and has welcoming staff. Buses run every 10 minutes into the city during the day, and every half hour in the evening.

Just west of Edinburgh is Linwater Caravan Park. It has good facilities for your campervan hire and lovely walks nearby.

Situated on the outskirts of Edinburgh is Drummohr Caravan Park. It has 108 pitches and an excellent bus service into Princes Street.
Eating out in Edinburgh
Leith is home to some of Edinburgh's most welcoming and best quality restaurants. The Ship on the Shore is seafood heaven with a delicious bowl of chowder, catch of the day and steamed Shetland mussels. Ondine is also seafood-inspired, yet a little more refined. Feast on the sea bream curry or roast shellfish platter. The dishes are all exquisite, but you can't beat their oysters.

Kweilin's food is spectacular. Their eight treasures duck has to be tried. Again, the menu is seafood heavy and the prices might be a little higher than your average Chinese restaurant. Dusit is a Thai eatery in Thistle Street, nestled between boutique designers and champagne lounges. A little fancier than your everyday Thai, some dishes can even be ordered with venison for that Scottish twist on a classic. For a delicious dinner that won't empty your wallet, head to BiaBistrot. They have a locally sourced menu with dishes of venison carpaccio, glazed pork belly and perfectly cooked fish. Authentic Spanish tapas can be found at Tapa in Leith. For less than a tenner, you can try patatasbravas, meatballs or aubergine drizzled with honey.
Pack the campervan and take a day trip in your Edinburgh motorhome hire
Empty beaches, unspoilt nature reserves and quaint fishing villages are dotted along the coast outside Edinburgh. Stretching from the village of Belhaven to the north of the River Tyne is Belhaven Beach, with sheltering sand dunes, rich salt marsh and colourful grasslands. It's a great spot for walking, picnics and sunbathing, and has spectacular views across the Forth Estuary.

Linlithgow Palace is the birthplace of Mary Queen of Scots. Step inside the ruins only minutes from the historic, cobbled high street of Linlithgow. Just an hour from Edinburgh is the town of Crieff. It's here you'll find Scotland's Oldest Distillery – The Glenturret Distillery. Novices and whisky enthusiasts alike will enjoy the tours, with a chance to see the Guinness World Record for the largest bottle of whisky.

Dirleton Castle is around 30km east of Edinburgh. A pretty and romantic castle with architectural history stretching back for 700 years, it is best known for its fantastic gardens. Tantallon Castle is a formidable stronghold set atop the cliffs on the Firth of Forth. Crichton Castle is a large and surprisingly sophisticated castle, tucked away beyond the village of Pathhead. The foreboding Blackness Castle, built in the 15th century, was once a garrison fortress and state prison.

When in Scotland, you must pay a visit to the beautiful Highlands and try to spot Nessie swimming in the Loch Ness, near Inverness. Dundee and Perth, are two other coastal cities not to miss. Finally, if you are in the mood for some shopping, you should make your way to Glasgow in your cheap campervan hire Scotland.
Expect the unexpected weather wise
Famous for its many festivals, Edinburgh is a great place to visit all year round. Rent a camper van hire in Edinburgh from May to September when the climate is most comfortable for the camping traveller. That said, the weather in Edinburgh is always changeable and visitors should expect both sunshine and rain, whatever the season.