Enjoy a South Island adventure with Christchurch campervan hire
A campervan hire from Christchurch is an ideal holiday for a number of reasons. As the largest city in New Zealand's South Island, Christchurch has plenty of things to offer for every type of traveller. Not only is it filled with diverse landscapes and stunning sceneries, Christchurch is also a great starting point for a number of epic motorhome hire NZ adventures. Pick up your campervan hire in Christchurch and explore the beauty of the 'Garden City' and the whole of the Canterbury region in a breeze.
Plan your campervan hire Christchurch road trip and find out more reasons why visiting this city should be part of everyone's bucket list!
Find cheap Christchurch campervan hire with Motorhome Republic
Any journey to New Zealand would not be complete without a cheap campervan hire from Christchurch. Located in the middle of the east coast of the South Island, Christchurch is the perfect jumping point for any campervan hire NZ holiday. Motorhome Republic helps travellers choose from 34 fleets of motorhomes. From budget motorhomes and cheap campers to luxurious RVs in the range, there is a perfect motorhome for every type of traveller. Select the pick up date, drop off date, grab your Christchurch campervan, and head away for a few days to closer areas such as Banks Peninsula and Hanmer Springs. Or opt for a two, three, or four-week motorhome trip and visit famous Lake Tekapo, and even areas as far south as Bluff or as far north as Nelson, or anywhere in between. A campervan hire in Christchurch gives you the freedom of travel from one place to another at your own pace.
Where to go with your campervan hire from Christchurch?
One of the closest spots is also one of the most quaint and picturesque in the country – Akaroa Harbour. Pick up your hire campervan Christchurch and head to the seaside township of Akaroa. Just one hour from the city over the Banks Peninsula, Akaroa is a small town filled with French origins that are perfect for a day or two of relaxed walks, boutique shopping and time spent on the water.
We can highly recommend a motorhome trip inland to Hanmer Springs, which is less than two hours' drive in your Christchurch RV. This is where you'll find glorious natural hot pools, beautiful walking tracks, and adventurous activities such as bungy jumping and jet boating.
On the coast, two hours north of Christchurch lies Kaikoura, a place known for its exceptional seafood and whale watching opportunities. It's a classic small-town New Zealand location and well worth a visit if you're driving through in your camper van hire. For those looking for a campground within close proximity to Kaikoura's top attractions, Donegal House provides both powered and non-powered sites on beautiful facilities with a restaurant and bar.
Heading west in your CHCH campervan rental, you can drive through the alps to Arthur's Pass and on to the West Coast. These often-rainy locations will give you a glimpse of the wild south, and are dotted with scenic stops and walking tracks. The journey towards Franz Josef Glacier is also becoming quite popular not only as a tourist attraction but even to CHCH locals.
If you're planning to visit Christchurch during winter, there are plenty of fantastic ski fields for a few days on the slopes. Mt Hutt, Porter's Pass and Mt Cheeseman are all within an hour or two of the city.
Head south of Christchurch in your motorhome hire down the coast for 4.5 hours and you'll reach Dunedin, a renowned university town with a famous Cadbury chocolate factory and a beautiful train station at its heart.
One of the most-visited and famous South Island attractions is the Fiordland National Park, which is an eight-hour drive in your motorhome rental Christchurch. The area encompasses the fiords of Milford Sound and Doubtful Sound and is easily one of the most jaw-droppingly stunning places in New Zealand, if not the world.
Not far from Fiordland is Queenstown, New Zealand's adventure capital. Here you can hike, bungy jump, take a ride on a jet boat, skydive, fish, go boating, zipline, visit the bumpy pump bike park, go mountain biking and do just about any other activities you can think of. In winter, the area becomes a snow bunny's dream, as it's surrounded by fantastic mountains such as Coronet Peak and Cardrona. Drive away in your campervan hire from Christchurch to Queenstown and experience the thrill of adventures the city has to offer. 
Christchurch Information
Christchurch has always been one of the top destinations to go on a campervan hire holiday. The city has been coping creatively with the aftermath of the destructive earthquakes of 2010 and 2011. With the ongoing projects to rebuild the city, travellers continue to revel in the vibrant and wonderful experiences Christchurch has to offer. Also serving as the gateway to discovering the natural beauty and rich culture of New Zealand's South Island, Christchurch is the perfect launching point for several campervan hire NZ road trips.
On the banks of the Avon River, Christchurch is a region of holiday park, galleries, epic botanic gardens, historical buildings and a people with an indomitable spirit. Despite the significant damage the earthquakes caused, the New York Times labelled it the 'World's Second-best place to visit' in early 2014.
What to do in Christchurch?
Christchurch-Canterbury region stretches from Mackenzie country around Lake Tekapo as far north as Kaikōura. Located between rugged coastlines and mountainous parks, Christchurch offers a uniquely European feel and plenty of outdoor activities and attractions to choose from. Access handy tips below to get you prepared for that CHCH holiday.
Christchurch Gondola: Pretty self-explanatory, this special trip is just 15 minutes from the town centre at 10 Bridle Path Road. With a cafe and a 'Shop at the Top', as well as taking in the stunning sights of the Southern Alps, there are so many things to do in this marvelous place.

Kaikoura: The whale-watching capital of the world, it's only a couple of hours from Christchurch in your campervan – and you can also get up close and personal with dolphins and fur seals. One of the most stunning, untouched natural havens on the planet.

Snow sports: One hour and 45 minutes west is Mt Hutt Ski Area on The Big Mountain. Whether you snowboard or ski, this family-friendly mountain offers basic coaching, different terrain, advanced slopes and a fantastic welcome - perfect for campers looking for a challenge and extreme adventure. Pick up a campervan hire near Christchurch Airport and hit the road. There is more to this city aside from the alps.

Golfing heaven: It's not difficult to store your golf clubs in a motorhome hire, so if you want to hit the fairways, Canterbury has more than 40 courses in the region. Hagley Golf Club and Clearwater are just two options.

Boots made for walking: For those more active travellers, there are numerous walking routes in the local areas around Christchurch. Akaroa & Banks Peninsula is a particular highlight, just 90 mins away. From an ancient volcano to reserves and forest land, get planning and put your best foot forward. Or there's Akaroa Jet Adventures if you want to give your campervan rental a rest and travel the ocean wave at high speed!

Taste sensations: Food and drink is a culture of its own in Canterbury, so if you fancy a change from the stove of your CHCH camper, indulge in a food and wine trail. They include North Canterbury, Selwyn and Mid Canterbury.
Hop on your motorhome hire in Christchurch and get ready to experience the holiday of a lifetime!
Christchurch's culture is now one of creative regeneration, which makes it such an interesting place.
A Christchurch Overview: Your gateway to a New Zealand camper rental adventure
A truly remarkable city, Christchurch's spirit is shining stronger than ever following the earthquakes of 2010 and 2011. Innovation, combined with a typical Kiwi can-do attitude, has seen the Garden City blossom once more as it continues to regenerate. There are exciting new places to go while things to do have sprung up in every neighbourhood.
Christchurch is New Zealand's second-largest city and the gateway for a stunning South Island road trip for those travelling by air. Punts glide down the Avon River, the rolling Port Hills guard the city to the south, and just a short drive in your motorhome hire Christchurch will deliver some of the world's best scenery like Southern Alps, Canterbury Plains and Lyttleton Harbour.
Christchurch Events and Festivals to enjoy while on a campervan tour 
Christchurch hosts many events, covering a wide range of interests and communities. Canterbury Arena attracts big-name concerts and the arts scene is abuzz year-round with music from Christchurch Symphony Orchestra, theatre and exhibitions, along with the city's unique annual World Busker's Festival. Sport highlights include cricket at the Hagley Oval, motorsport and the Christchurch Marathon. The biggest annual event is the Ellerslie Flower Show at North Hagley Park – one of the region's top ten things to do. Plan ahead your campervan rentals Christchurch NZ itinerary and make sure to attend the events and feel like a local.
The Great Outdoors of Christchurch
Hagley Park is 164 hectares of open space and gardens right in the central city. It is a Christchurch institution and one of the best places to visit while on a camper rental tour – not only for the lovely green space but also the golf course, botanic gardens and Canterbury Museum all located on the grounds. It also contains sports grounds and often hosts large-scale events.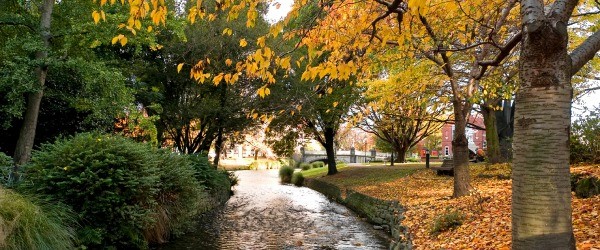 The RE:START container mall provides a splash of colour and retail therapy on the edge of the CBD. The labyrinth of colourful refurbished containers showcases 30 retailers and cafés, both local and chains. There are also bars here for late-night entertainment. Other shipping container pop-ups can be seen in other parts of Chch city as a fun and temporary solution to the earthquake recovery process.